California Farm Fresh Salsa, layered.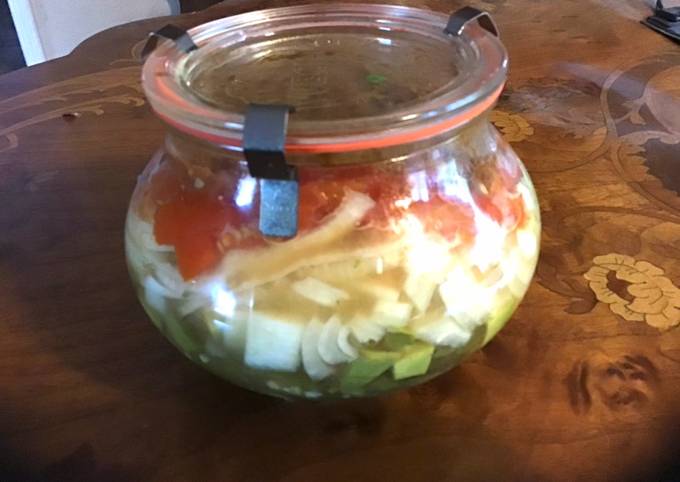 You can cook California Farm Fresh Salsa, layered using 10 ingredients and 4 steps. Here is how you cook it.
Ingredients of California Farm Fresh Salsa, layered
Prepare 6 of fresh Big Girl Tomatoes.
It's 6 of fresh green tomatillos.
You need 4 of fresh mexican avocados.
It's 2 of elephant garlic bulbs.
Prepare 2 of fresh Vidalia onions.
It's 4 of fresh jalapenos.
Prepare 4 of fresh limes.
You need 1 bunch of fresh cilantro.
It's 1/2 teaspoon of Rock salt per pint jar.
Prepare 1/2 teaspoon of cumin per pint jar.
California Farm Fresh Salsa, layered step by step
Wash, drip dry all vegetables. Slice tomatoes horizontally, 1/4" thick, remove green cores, chop 1/4" square. Chop avocados 1/4" square. Chop onions 1/4" square. Slice jalapenos 1/4" slices horizontally, chop rings into 1/4" lengths. Do not mix vegetables, keep in separate bowls..
Roast tomatillos coated in olive oil in 350F oven for 15 minutes. Chop to 1/4" pieces. Using scissors, snip rinsed cilantro as thin as possible. Mix these ingredients with the green avocados. DO THE TASTE TEST: mix 4 tablespoons of all fresh ingredients and the spices with 1/4 teaspoon of chopped jalapeno. Mix, taste. If too mild, add another 1/4 tsp, taste, add another, taste, and another. Then decide to use1,2,3, or 4 jalapenos to add to this recipe..
Now layer the ingredients in the pint mason jar, the colors of the Mexican flag: green-white-red: 4 tablespoons of green tomatillo, jalapeno, and avocado with cilantro on bottom, next, 4 tablespoons white onion with 4 crushed garlic cloves, next 4 tablespoons red tomato, overfill jars, mix will settle when sterilized..
Sprinkle 1/2 tsp rock salt and 1/2 tsp cumin powder on top, drizzle half a lime over, put jars with loose lids three hours in 170F degree oven. Cap lids tight with screwbands, turn upside down, then cool. If lids are indented, label and store. If lids are not indented, put in fridge and eat while fresh. Stir each jar to mix throughly when opening. You will be amazed how delicious and fresh this salsa stays. Enjoy..
Love to Cook and Food Delicious…