Vegan No Fish & Chips.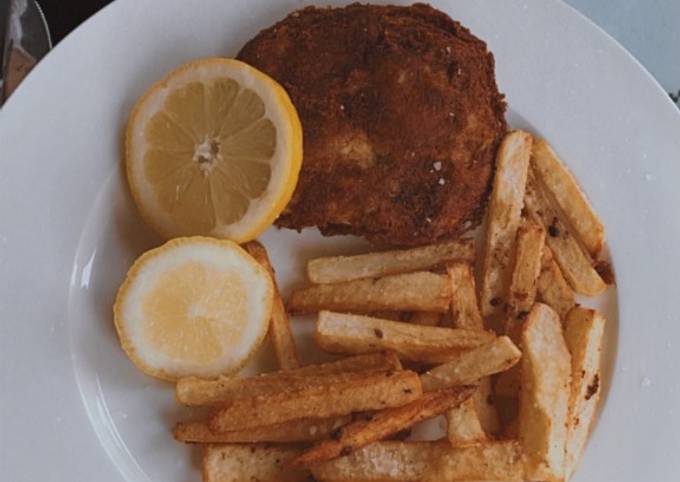 You can have Vegan No Fish & Chips using 17 ingredients and 14 steps. Here is how you achieve it.
Ingredients of Vegan No Fish & Chips
You need of Vegan Fish.
Prepare 1/4 cup of panko.
Prepare 1 tsp of vegan worchestire sauce.
You need 1 tsp of paprika.
It's 1 can of heart of palms.
It's to taste of Salt and pepper.
You need of Batter.
You need Squeeze of lemon.
Prepare 1 tsp of baking soda.
Prepare 1 tsp of curry.
It's 1/4 cup of flour.
You need 1/2 can of dark beer.
You need 1/2 can of Aquafaba from chickpea can.
You need of French Fries.
It's 3 of White potatoes x.
It's to taste of Salt.
You need of Oil (canola or sunflower).
Vegan No Fish & Chips step by step
Chop heart of palms in small pieces.
Combine ingredients for vegan fish in a food processor and pulse until mixed. Should still have small chunks.
Shape mixture into two pieces and place on a parchment sheet in the fridge for 1 hour.
For batter, combine flour, baking soda, curry, lemon, and beer and whisk vigorously..
Whisk aquafaba vigorously until peaks appear..
Combine aquafaba to batter and whisk vigorously.
In a saucepan, pour 1/4 inch of oil and heat.
Remove fish from fridge, cover in flour + remove excess flour. Dredge fish in batter mixture before placing in oil..
With a spoon, cover the top side of the fish with the oil until browned.
Once crispy, place fish in oven the cook inside.
Peel potatoes and allow to dry. Square off potatoes and chop into fries. Dry potatoes with paper towel..
Fry potatoes until crispy.
Remove potatoes and place on paper towel and salt to taste..
Plate & enjoy!.
Love to Cook and Food Delicious…