Pambazo Mexicano Wagyu Chorizo Potato Sandwich.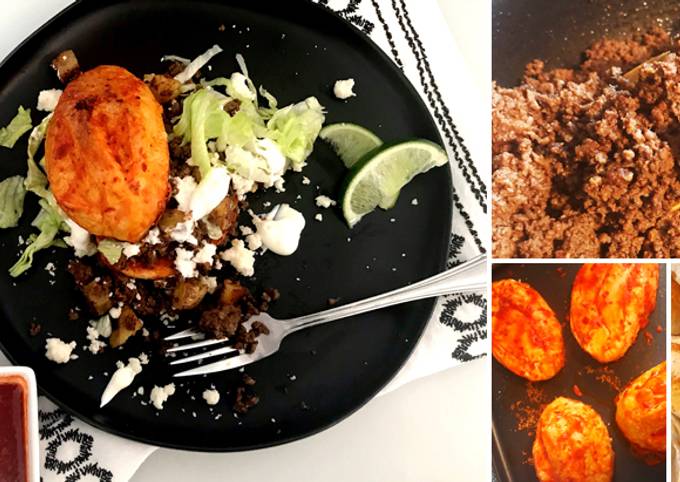 You can have Pambazo Mexicano Wagyu Chorizo Potato Sandwich using 22 ingredients and 8 steps. Here is how you achieve that.
Ingredients of Pambazo Mexicano Wagyu Chorizo Potato Sandwich
Prepare 1 PACKAGE of Double 8 Cattle Company Fullblood Wagyu Beef Chorizo.
It's 2 1/2 CUP of Yukon Gold Potatoes (diced).
It's 3 of Dried Guajillo Peppers (seeds removed).
You need 2 TBSP of Grapeseed Oil.
You need 3 of Garlic Cloves.
It's 8 of Black Peppercorns.
It's 1/2 TSP of Mexican Oregano.
You need 1 1/2 CUP of Shredded Iceberg Lettuce.
You need 1/4 CUP of Crumbled Cotija.
It's 2 TBSP of Mexican Sour Cream or Crema.
You need of Hot Water (for soaking guajillo peppers).
Prepare of Kosher Salt & Freshly Ground Black Pepper (to taste).
Prepare 2 of Limes (cut into wedges).
You need of Telera Dough.
You need 2 TSP of Instant Yeast.
Prepare 1 1/2 CUP of Water (at 80 Degrees).
Prepare 1 TBSP of Honey.
It's 1 1/2 TBSP of Butter Softened.
It's 2 TSP of Salt.
You need 4 CUP of All-purpose Flour.
Prepare 1 of Egg (beaten).
It's 1 TBSP of Water (at room temperature).
Pambazo Mexicano Wagyu Chorizo Potato Sandwich instructions
PREPARING THE TELERA ROLLS In a mixer bowl, combine the instant yeast and all-purpose flour.Then, add the 80-degree water, honey, softened butter, and salt. Mix until a soft dough forms. Knead the dough for 6 to 8 minutes at medium speed in a stand mixer.Cover the bowl with plastic wrap, and let it rise for 1 hour until the size has doubled.Once the dough has risen, punch it down. Then, divide the dough into 3.5 oz portions, roll into balls, and cover..
Let the balls of dough rest for 5 minutes before shaping the dough pieces into football-shaped rolls (tapering the dough toward the edges of each roll).The rolls should be 5 inches long and 2 inch wide at the center.Place the rolls onto a parchment-lined baking sheet, and cover with greased plastic. Allow the rolls to rise while turning the oven on and preheating it to 400°F.Use one egg, beaten, and 1 tablespoon of water to create your egg wash..
When the rolls are almost doubled in size, brush the tops and sides with the egg wash. Using a serrated knife, make two parallel slashes in the rolls. Bake for 20 to 22 minutes at 400°F until the rolls are golden brown. The centers should read 190°F on a thermometer. Remove the rolls from the oven, and cool completely..
PREPARING THE PAMBAZO MEXICANO WAGYU CHORIZO AND POTATO SANDWICHPlace the diced potatoes in small bowl, and coat them with grapeseed oil.Season them with kosher salt and freshly ground black pepper. Spread the potatoes evenly on a baking sheet, and bake at 400°F until soft (about 20 minutes).Place the guajillo peppers in a bowl, and cover them with hot water to soften them (while the potatoes are cooking)..
While the peppers are softening, cook the Fullblood Wagyu chorizo in a skillet over medium-high heat. Use a wooden spoon to break up any large pieces of chorizo, and crumble. Once the potatoes are cooked, add them to the skillet with the Fullblood Wagyu chorizo. Keep cooking for 3 minutes (this is just enough time to allow the flavors to blend and the potatoes to get a little more ten-der). Set aside..
Place the guajillo peppers, 1 cup of water (that the peppers were previously soaking in), garlic cloves, Mexican oregano, and peppercorns into a blender. Process the ingredients until you have a smooth sauce. This is your guajillo sauce.Strain the sauce, and place in a bowl.Heat a griddle, and add a 1/2 tablespoon of oil. Slice the telera rolls that you prepared earlier.Place the sliced rolls upside down on the griddle, and brush their tops all over with the guajillo sauce..
Flip the rolls so the tops get a little warm and crispy. Cook for a minute or two per side. Repeat the process with the rest of the rolls, adding oil to the griddle as needed..
FINAL STEPS To assemble the Pambazo Mexicano Fullblood Wagyu chorizo and potato sandwiches, lightly coat the bread (toasted telera rolls) with sour cream.Place some chorizo and potatoes on each toasted roll.Top with the shredded lettuce, more sour cream, and crumble cotija cheese. Serve with warmed guajillo sauce, and a few lime wedges..
Love to Cook and Food Delicious…