Sidecar: a French cocktail. The sidecar is a cocktail traditionally made with cognac, orange liqueur (Cointreau, Grand Marnier, Dry Curaçao, or a triple sec), plus lemon juice. Shake ingredients in a cocktail shaker with ice and strain into a chilled cocktail glass. How the Sidecar got its name is a source of debate: Both a French and English bar claim to have invented the cocktail for a customer who arrived at the location in the sidecar of a motorcycle.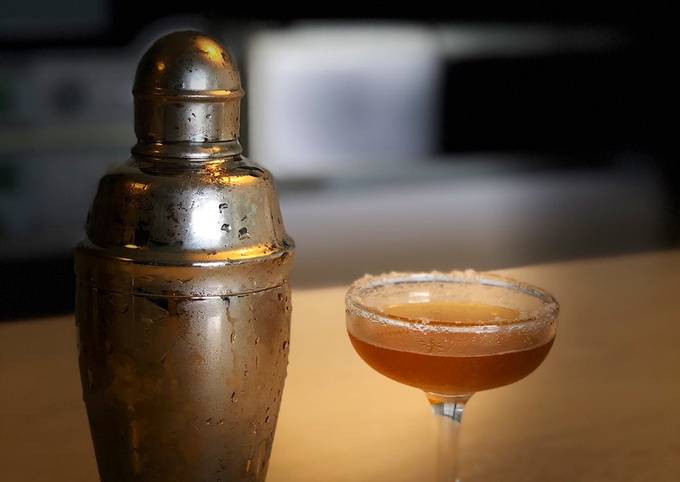 Also cognac is often suggested as an ingredient but a good French brandy such as St. Remy XO works equally well if not better. As most cocktail origins go, there are a few stories about who mixed up the first sidecar. You can have Sidecar: a French cocktail using 3 ingredients and 1 steps. Here is how you cook that.
Ingredients of Sidecar: a French cocktail
Prepare 2 of parts Cognac.
Prepare 1 of part Cointreau.
It's 1 of part fresh lemon juice (or 3/4 part of you prefer a slightly less tart cocktail).
This Sidecar recipe, for instance, has a bit more showmanship to it, courtesy of the Brandy Library in New York. It uses two additional ingredients in its Sidecar: simple syrup and lime juice, which requires further tweaking of the ratio, plus a sugared glass rim. Again, you might find yourself altering to taste. It's easy to adapt – simply use cognac, or go with equal parts cognac, triple sec and lemon juice.
Sidecar: a French cocktail instructions
Shake ingredients in a cocktail shaker with ice and strain into a chilled cocktail glass. A sugared rim is optional.
Shake well, until the outside of the shaker feels cold, then strain the cocktail into the chilled glass. If the lemon juice is too sharp, add the. The sidecar cocktail is the first drink I really fell in love with, and the most elegant of sours. It's an easy drink to make, with just three ingredients, though it's still not a widely What's interesting to me about the sidecar is that it's got two distinct approaches to the recipe; a so-called French vs. The Sidecar Cocktail is quintessentially French, with its mix of Cognac Brandy, Cointreau and a touch of citrus, there are few drinks that would be more at home in a Parisian bar in the evening.
Love to Cook and Food Delicious…