Sig's Bienenstich "bees sting" Oma.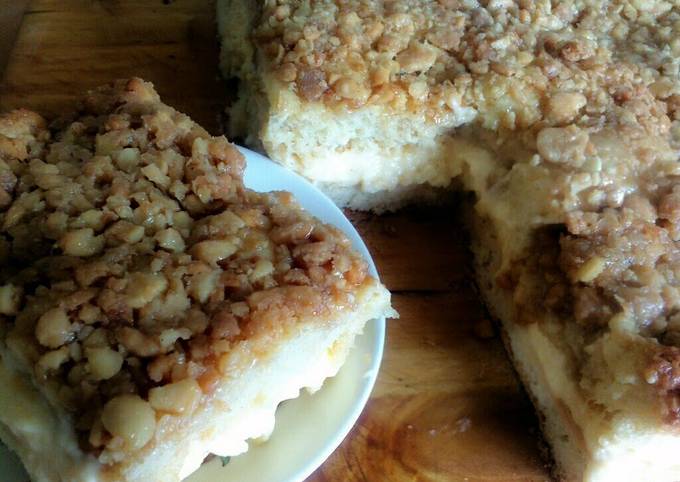 You can have Sig's Bienenstich "bees sting" Oma using 11 ingredients and 5 steps. Here is how you achieve that.
Ingredients of Sig's Bienenstich "bees sting" Oma
Prepare 500 grams of fine plain flour.
You need 1 piece of 42 grams fresh yeast or 21 grams dry yeast.
You need 1 liter of milk ( you not quite need to use all of it).
You need 200 grams of butter.
Prepare 325 grams of extra fine (castor) suger.
Prepare 1 pinch of salt.
You need 1 of egg, beaten.
Prepare 1 of sachet of vanilla sugar.
You need 200 grams of almond slices or shavings.
Prepare 1 packages of (sachet) custard powder.
It's 125 ml of whipping cream.
Sig's Bienenstich "bees sting" Oma step by step
add flour into a deep bowl, make a hollow. Warm 125ml milk. Crumble the fresh yeast into the hollow (if using dried yeast follow instruction) and a little of the warmed milk and one pinch of sugar. Stir in and cover. Stand in a warm place for about 15 minutes.( if you use dried yeast use less milk as you activate the yeast with water) . Dissolve 100 gr butter in the rest of the 125 ml warmed milk . Put 80 grams sugar, 1 pinch of salt, and the whisked egg onto the edge of the dough and knead wirh the milk/butter mix (a little at a time, only use all if the dough is not pliable) into a pliable dough, cover set aside in a warm place to rise for 30 minutes.Knead the dough gently through.
for the almond topping, add the rest of the butter, sugar leaving 1-2 tablespoons aside , vanilla sugar and almonds into a frying pan stir until the sugar has caramelized, add 4 tablespoons full of milk and stir in. Set aside to cool.
roll out the risen dough onto a flat baking tray brush the almond mix over the top, set aside in a warm place for another 15 minutes. Bake in preheated oven by 200C for about 30 minutes, cool.
make the pudding as stated on package with 1/2 litre milk the rest of sugar and a pinch of salt, cool. Whip the cream ,. lift under pudding.
cut the cake horizontally into two halves., add pudding mixture over bottom halve and top with almond halve.
Love to Cook and Food Delicious…