Vickys French Baguettes, GF DF EF SF NF.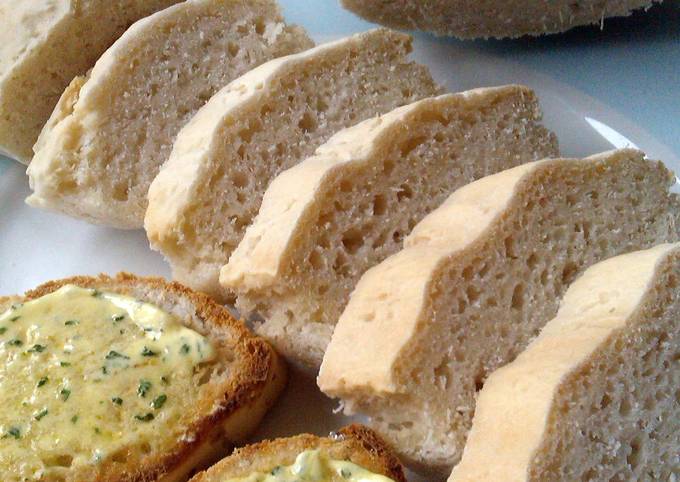 You can have Vickys French Baguettes, GF DF EF SF NF using 9 ingredients and 11 steps. Here is how you cook it.
Ingredients of Vickys French Baguettes, GF DF EF SF NF
It's 600 ml of warm water (1/3 boiling to 2/3 cold gives perfect temp).
It's 2 tsp of sugar.
It's 2 tbsp of yeast.
You need 198 grams of (1 & 1/4 cups) brown/white rice flour.
It's 127 grams (1 cup) of white sorghum flour.
You need 383 grams of (2 & 1/4 cups) potato starch – not flour.
Prepare 2 tsp of salt.
Prepare 1 of & 1/4 tsp xanthan gum.
Prepare of Light coconut milk to glaze.
Vickys French Baguettes, GF DF EF SF NF step by step
Add the yeast and sugar to the warm water and let stand until it has a good inch head of froth like a pint of beer should.
Using a stand mixer, whisk the flour, starch, xanthan gum and salt together and gradually add the yeast mixture in. The dough will be more like a thick cake batter or a very soft dough.
If you don't have a baguette pan, cut a Pringles box in half lengthwise and wrap it with a few layers of foil.
Spoon the dough/batter into the tin and level it off and round the ends with a wet spatula.
Brush the top with some of the milk and let rise in a warm place for 20 minutes.
Meanwhile preheat the oven to gas 7 / 220C / 450°F and fill a baking tray with an inch of water.
Put the bread tins in the middle of the oven with the tray of water on the bottom shelf and bake for 20 – 25 minutes.
Release the loaves from the tin and bake a further 5 minutes upsides down on the baking tray to crisp up the underside.
Let the baguettes cool on a wire rack.
Once cooled you can wrap whole and freeze, otherwise, keep in a lidded container for 2 to 3 days.
Best sliced, toasted and smothered in gorgeous garlic butter!.
Love to Cook and Food Delicious…