French pear cake. This French Pear Cake has some differences though, as it uses a lighter batter to produce a lighter and airier cake. Whisk together your first three ingredients. This Classic French Pear Cake features tender pear chunks nestled in a light and airy crumb, flavored with almond extract.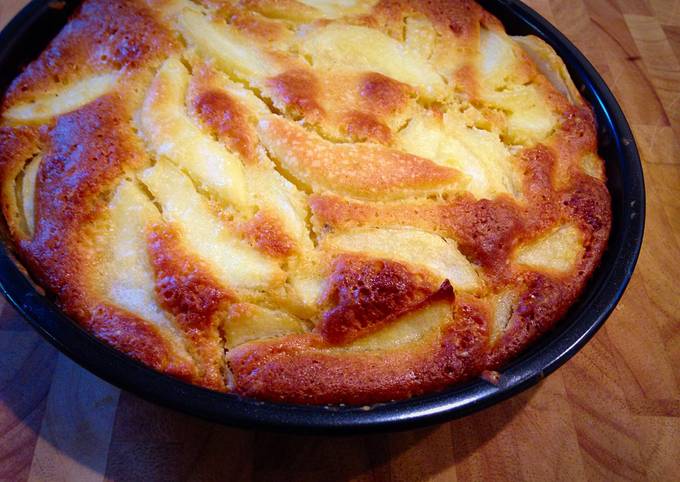 Very easy cake to prepare, it is delicate and smelting. Pear cake is as easy as delicious and it's perfect for tea time. Today, it will be my kid's snack when they. You can have French pear cake using 8 ingredients and 8 steps. Here is how you cook it.
Ingredients of French pear cake
It's 3/4 cup of ap flour.
You need 3/4 tsp of baking powder.
It's 1 pinch of salt.
It's 2 each of eggs.
It's 3/4 cup of sugar.
Prepare 1 tsp of vanilla extract.
It's 8 tbsp of butter, melted.
It's 4 large of pears.
This French-style pear cake is a wonderful combination of tender-crumb cake and juicy chunks of pear. It's easy to make and perfect just as it is for a snack or dressed up for dessert. A fast, easy, and cheap French cake. The cake seemed way too dense and the pear flavor got overwhelmed by the chocolate.
French pear cake instructions
Preheat oven to 350°F.
Whisk together your first three ingredients..
Peel and core pears. Cut into slices..
Beat eggs until foamy. Whisk in sugar and vanilla. Stir in 1/2 of the melted butter..
Stir in the dry ingredients, then the remaining butter..
Fold in the pears and mix until well coated in batter. Pour into a greased cake pan. Spread out evenly with a spatula. To make it pretty, you might want to arrange the pear slices neatly over the top..
Bake for 50-60 minutes..
Serve with a big spoonful of goat cheese whipped cream..
This French pear cake enjoyed with a generous topping of whipped cream, powdered sugar and Light and soft, this classic French cake is super easy to make, and every bite is infused with the. This French cake was easy to make. It is a perfect fall dessert and tasted great!. Using a semi-firm pear was fine. They do not have to be soft and ripe for this recipe.
Love to Cook and Food Delicious…