Stuffed Wagyu Flank Steak.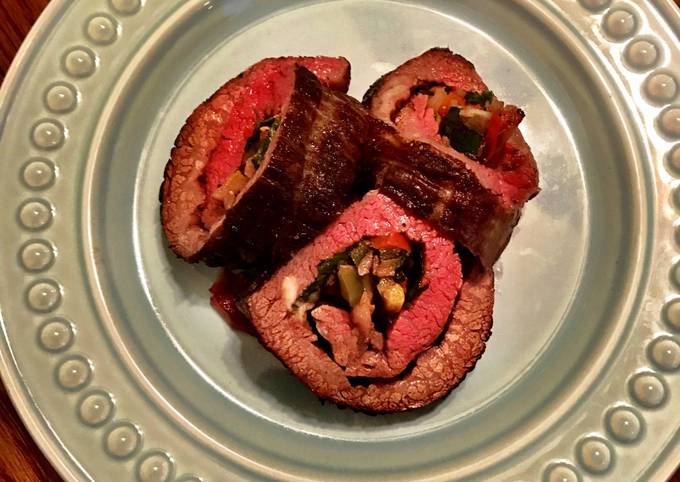 You can have Stuffed Wagyu Flank Steak using 12 ingredients and 6 steps. Here is how you cook it.
Ingredients of Stuffed Wagyu Flank Steak
You need 1 of Fullblood Wagyu Flank Steak, Butterflied.
It's 1 Cup of Fresh Baby Spinach, Stems Removed.
You need 2 Ounces of Manchego Cheese.
It's 1 of Red Bell Pepper, Julienned.
You need 1 of Poblano Pepper, Julienned.
Prepare 1 of Yellow Bell Pepper, Julienned.
It's 1 of Yellow Onion, Julienned.
Prepare 2 Cloves of Garlic Minced.
It's 1 TSP of Dried Mexican Oregano.
It's of Grapeseed Oil.
You need of Olive Oil.
You need of Kosher Salt and Black Pepper to Taste.
Stuffed Wagyu Flank Steak instructions
PREPARING THE ONIONS, PEPPERS, AND GARLIC In a large skillet or pan, saute onions in grapeseed oil until translucent. Deglaze the pan with liquid, ½ cup or so (we recommend beer, but water works as well). Add peppers and cook until softened.Fold in minced garlic.Add Kosher salt, black pepper, and Mexican Oregano to taste..
PREPARING THE FULLBLOOD WAGYU FLANK STEAK Cut the flank steak in half widthwise, making two pieces to work with. Lay the flank steak flat on the cutting board. Using a stiff boning knife, cut the steak horizontally from top to bottom, as if opening up the steak like a book. Hold guide hand on top of the steak, and keep the knife level with the board. Move slowly, so that you don't cut holes into the steak (or yourself)..
Fold the top half over. And as you are doing this, just keep following the cuts. Continue these cuts from top to bottom until the steak opens up flat.Season with Kosher salt and fresh ground black pepper..
STUFFING, ROLLING, AND TYING Place an even layer of fresh spinach (½ cup) in the middle of the steak.Then, add the cooked peppers and onions on top.Finally, add the sliced Manchego cheese on top (we recommend using a peeler to slice long thin pieces). Roll the flank steak up tight, and season the outside with Kosher salt and fresh ground black pepper. Tie the rolled steak with 6-inch pieces of twine, every two inches, from top to bottom..
COOKING INSTRUCTIONS Preheat the oven to 350 degrees. Warm a cast iron pan until it's hot. Add enough olive oil to coat the bottom of the pan (we are searing the steak not frying it, so a light coat of oil is perfect). Place rolled and tied steak in the pan and sear each side for 3-4 minutes until browned/caramelized all over. Place pan in the oven to finish to desired doneness, 10-20 minutes depending on your preference. Let rest for 10 minutes..
Cut away string, and cut into 1 inch rounds with a sharp slicing knife. Enjoy!.